I John 3:16-18 "We know what real love is because Christ gave up His life for us. And so we ought to also give up our lives for our Christian brothers and sisters. But if anyone has enough money to live well and sees a brother or sister in need and refuses to help--how can God's love be in that person? Dear children, let us stop just saying we love each other, let us really show it by our actions."
New Living Translation (NLT) Holy Bible. New Living Translation copyright© 1996, 2004, 2007 by Tyndale House Foundation. Used by permission of Tyndale House Publishers Inc., Carol Stream, Illinois 60188. All rights reserved.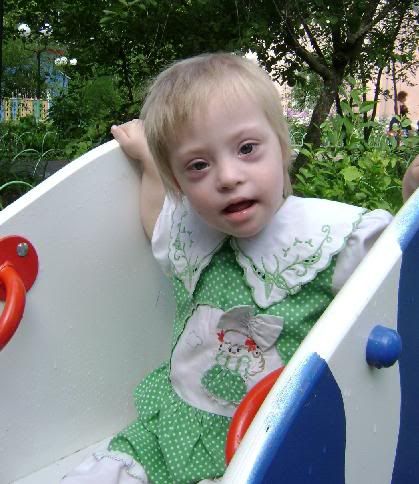 God has been talking to me about orphans lately. Why do we live in wealthy America when others live in what we consider unthinkable situations? Maybe so that we can help them...
I first learned about
Reece's Rainbow
through a blog... then started hearing about it other places... people everywhere talking about helping orphans & widows... and our church sponsoring an orphanage and traveling to love on them in person...

Please read and take a step to help save Olga...
or another orphan that God lays on your heart.